A beautiful sunset, hidden behind grey clouds could be seen as the year 13 students from Sancta Maria College arrived at Eastern beach. Students arrived at 7 am and headed to Willow Park Christian camp. The wet weather prevented the students from having what would have been a mass on the beach, watching the sun rise, though the indoor mass was just as special.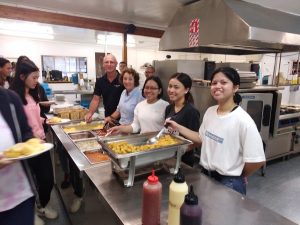 After mass, a former head boy of Sancta Maria College, Niel Kulkarni, spoke to the students about the importance of faith which is the College's main value this year. He spoke to the students about how faith has helped him as he is making his journey through university. The year 13's were urged to build up their own faith as students attending a Catholic school, through asking lots of questions and constantly working to learn more about God.
After Niel's speech, the students were provided with a delicious breakfast before heading off to their activities. Students were split into their house groups and were to attend 4 different activities, all of which were based on faith, throughout the day. The activities included a reflection on faith with Mr Bidwell and Dr Laux, reconciliation with Father Kevin, 2 faith activities with Mr Bacon and Mr Mckie, and an art session with Mr Cho.
Students were served lunch after their and given time to hang out with friends before the final liturgy.
The final liturgy and short speech from Mrs Holmes and Mr Piggin concluded the Year 13 retreat. A big than you to Mrs Holmes, Mr Piggin, and Father Kevin, as well as all of the teachers who helped to make the day possible!
It was an enjoyable day for all students, who were given the opportunity to learn more about their faith and spend some time together as a year level. It was a special day for all students to remember and appreciate before their high school journey ended.
Michiko Pritchard