This year, because of coronavirus restrictions, Sancta Maria will be celebrating our different cultures in a different way. Although there will not be a physical gathering, we are sure this year's Cultural Festival will prove to be just as incredible, with performances ranging from Indian dance groups to some of our school's musical bands.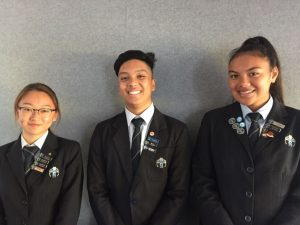 Many of you will remember 2019's twilight festival, where celebrations lasted until evening, with food stalls and live performances. Organised by last year's cultural prefects Bo Min Cho, Patrick Florendo and Shawna Stowers, it was planned to happen this way again in 2020 but due to Covid, it has been moved and made virtual.
Our Cultural Prefects, Ofelia Taulisi and Lorenzo Cruz, have been working hard to make this year's virtual cultural celebration a success.
Ofelia and Lorenzo have been actively involved in cultural activities since they were young. Introduced to the cultural aspect of this school in Year 8, Ofelia has found happiness in joining these fun activities.
"It's always been something fun, the hype around our cultural festival is great and it'd be nice to continue the tradition this year," she said.
Lorenzo became interested in all the different cultures after he watched an amazing K-pop performance in Year 9. It introduced Lorenzo into the fun cultural aspect of Sancta Maria College and developed his passion.
"Covid isn't going to stop us from embracing our cultures, we didn't want to cancel it, but still wanted to enjoy ourselves and keep it going,' said Lorenzo. "It was especially disheartening as a music student when all our performances were cancelled, so it's nice to be able to give music groups a chance to showcase their talents."
In early term 4, our virtual cultural festival will be shown to students during Homeroom time. For members of the public and our families, it will be uploaded onto our school's Facebook page (https://www.facebook.com/sanctamariacollege/).
Performances you can look forward to include various musical groups, Indian groups, Samoan groups and even a special Chinese performance. These performances will all be pre-recorded and compiled to form a video centred around cultural appreciation.
Special thanks as well to everyone involved in the inter-cultural committee, including all the dancers, logistics team members, tech team, group leaders and as ever to Mrs Kevern for working hard to make this virtual festival possible.
Jennifer Zeng and Alanna Santoso