On Tuesday 17th November a group of Year 9 and Year 10 students attended a Girls in Games immersive one-day workshop at the Media Design School that covered the basics of Game Development, Game Art, and Game Design.
The d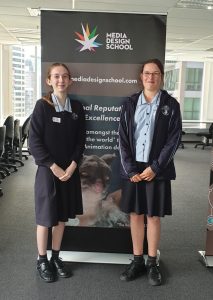 ay started with a message from the Keynote speaker Lauren Bardebes who has worked for Gaming and Tech companies in Paris and Auckland. She advised that students should go out and find opportunities and that gaming in New Zealand was a growth industry.
Students were then taught about Art and Design before learning to program in Gamemaker.
The girls thoroughly enjoyed this unique experience and are hopefully inspired to create the games of tomorrow!
Thank you to Mrs Al-Rubaie for supporting this opportunity.