October is the month of Breast Cancer Awareness and Rona Sabinada, a Year 12, has put herself forward to show her support for the Breast Cancer Foundation.
Her support goes far and wide where she had organised "Sewing for a Cause", a project that took place in the holidays in the College's Soft Tech room.
Aotearoa has been battling hard against Covid-19, when the change in alert levels called for masks to become a part of Kiwis' daily lives.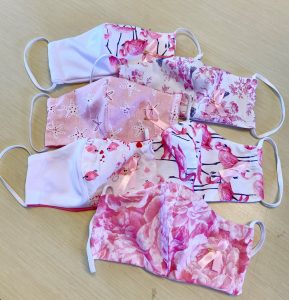 Rona saw this as an opportunity to show her support for the foundation and involvement in her community. Last year, she displayed her support by sewing up pink scrunchies to raise awareness and bring in donations for the foundation.
From 10am to 1pm, students from various year levels volunteered to cut, sew, and assemble these beautiful and stylish pink masks. The project occurred over 5 days, where each day brought us closer to the goal of making 100 masks. 
An amiable space encouraged mass productivity as students reconnected with their friends while putting their hands to hard work.
Thanks must go to Ms Rehu and Rona for arranging this project, as well as the many students who participated in the process. More than 150 masks were made. With high hopes, Rona wants this to become an annual project because she believes, "As New Zealand youth, it is important that we help implement positive change in our communities."
These masks are waiting to sell during Pink Shirt Day on Friday 23rd October, when all proceeds will go towards the Breast Cancer Foundation. Only $5 will get you a beautiful, handmade mask put together by this wonderful group!
Let's all look forward to seeing the coordination of pink outfits and masks around school next week when the college comes together to support both Bullying-Free Week and an amazing cause!
Nasya Chin