Initiated last year, the Special Character week is a week-long celebration of our school's feast day – The Visitation. During this week, many activities are organised, amongst these was a vigil to pray for those affected by the shootings in America, a Sausage sizzle, Feast Day Mass, 'Bring anything but a bag', performances and a mufti day.
The vigil, run by Special Character Prefects, Ethan and Adrian, was to honour the lives of the 19 students and 2 teachers who were killed in the tragic shootings in Texas. Ethan says, "We felt that it was important for us as young people to stand in solidarity with the victims of this event and pray for their families. Though we are halfway across the world from Texas, we still felt a strong need to stand in solidarity with the grieving school community."
The money from the sausage sizzle and mufti day is going to UNICEF. East Auckland Schools (an organisation for the head & deputy Prefects) decided to have a mufti day to raise money for UNICEF. Samara says, "We hope to show our solidarity within the Auckland region and stand up against the harmful situations worldwide, such as the Ukraine situation."
In the middle of our Special Character week, we had the Feast day mass, presided by Fr Craig and Fr Sherwin which was the first-time our school has had a mass in the St Luke's church. In addition, seven new eucharistic ministers were commissioned.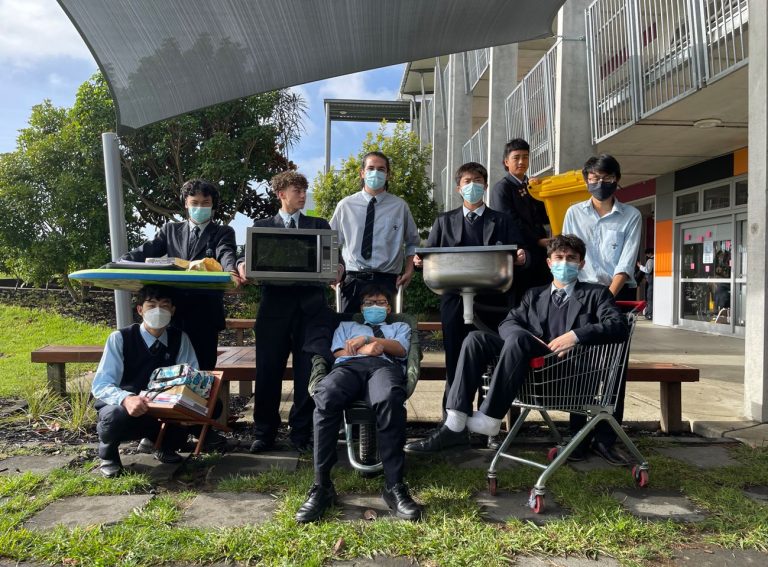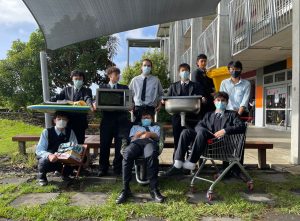 'Bring anything but a bag day', on Wednesday, was also successful with many students being creative with their 'alternative school bags' – some things that people brought in were a wheelbarrow, a sink, a bucket or even a chilly bin!
Performances were held in the Auditorium to showcase the school's wonderful music and cultural groups. It opened with the Samoan group to coincide with Samoan language week and then proceeded on to performances from the Jazz ducks, Cesura and the Tanukis who were preparing for up and coming musical competitions.
The organising of these activities was a joint effort of the Special Character Deputy Prefects: Lavina and Sean, the Service Prefects: Thomas, Sandra and Kenny, the School Community Deputy Prefects: Samara and Adrian and the Head Prefects: Paris and Ethan. A huge thank you to the whole team who helped make Special Character week special and memorable.