Now comes the time of the year for our school to join in celebrating the Feast of the Assumption.
This was a significant day for the College to commemorate the belief that Mary, the mother of Jesus, was assumed into heaven, body and soul, at the end of her earthly life. It links to our school's Special Character in celebrating special people and emphasising once more how appreciative we should be of everyone around us, especially our mothers.
Students, teachers, and invited guests filled the auditorium transforming it into a sacred space. Mass was celebrated by priest in residence, Father Terry Montogomery. It began with an opening address from our Special Character Prefects and ended with Ms. Moore leading us in our school prayer. A memorable and important moment was made possible through all the blessings, singing, and prayers.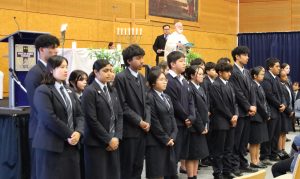 Mass was made even more special as a group of students were appointed roles as Ministers of the Eucharist through a commissioning ceremony. A special thank you to those who helped with Mass, in particular Mr. Tamayo, Worship Band, Altar servers, readers, eucharistic ministers and sound crew for contributing towards making the Mass outstanding.